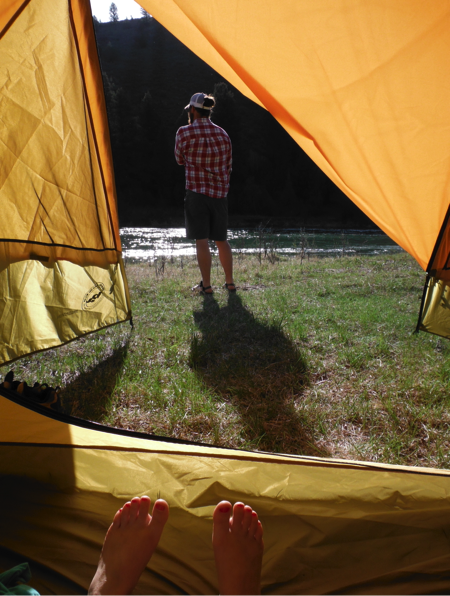 "And this is why overnight float trips are a summertime staple: Schedules are lax. Fishing days are long. Whatever mystery enchiladas the Dutch-oven reveals taste better when shared with friends. And with several uninterrupted days on the water, the experience is all about full immersion."
enior Editor at The Drake
As you lay in your tent pondering and reviewing each fish you caught earlier that day, you can hear the low relaxing noise of the river as it continues on its' course. You remind yourself that you get to do this for one more night and two more days. You look to tomorrow with hopes that the fishing will be as good, not sure how it could be. Then your mind jumps to the four course meal you just ate, you wonder how they got all of that food into camp.
You wake up to the smell of bacon and coffee and the sound of the river working the edge of the bank, you know it will be a fine day.
Equipment List
Float trip

Utah fishing license

Polarized sunglasses

One extra dry layer

Sandals or some type of shoe that can get wet and will dry quick

Light wadding pant or shorts only for warm weather months

Sun screen

Camera

Prescription medications

Prescription glasses

One pair fingerless gloves for cold weather months

One pair heavy gloves. Only for April, May and October

Stocking cap or beanie Only for April, May and October 
If there are special food requests or food allergies please let us know and we will accommodate the best we can. If you have any questions we would be more than happy to help. Give us a call or email. Matt Lucas (801)-803-3899 or wrfguides@gmail.com.    
**Cancellation & Reschedule Policy
Written notice must be received 14 days prior to your trip to cancel or reschedule dates.  If written cancellation is received 14 days prior to your trip you can transfer your deposit to another date within the same calendar year or receive a full refund.  Any reschedules must take place the same calendar year as your original trip. If you are within 14 days and cancel your trip, your deposit will be non refundable.