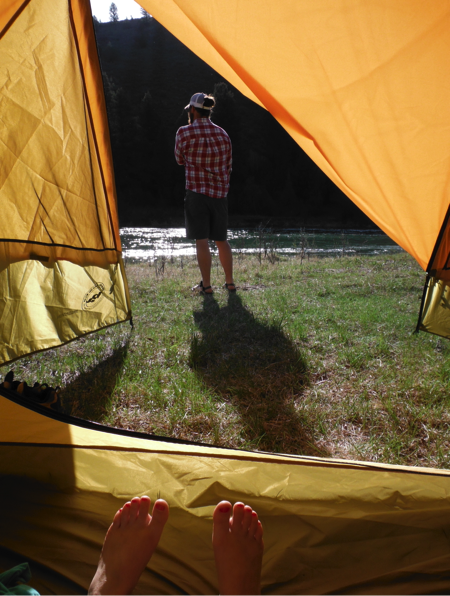 Backpacking Trips
Backpacking and flyfishing in Utah's Uinta mountains have become more than a few adventurer's fondest memories of spending time outside. These mountains have awe inspiring weather, incredible thunder bumpers rolling over the mountains and sudden downpours forcing hiding with friends under ponchos only to have them stop as quickly as they started. They harbor high mountain lakes and streams filled with hungry trout that are more than willing to eat a dry fly and that ever peaceful feeling that you are in the middle of now where. This mountain range has created great memories that began with my father and brother, then later with friends. These memories I frequently recall, around campfires, when I am In a crowded room, when I need to find confidence or just some inner peace.
The Uintas are a unique group of mountains that run East to West and include Kings Peak which is Utah's tallest peak at 13,586 . This range of mountains has some, or maybe the most diverse range of fish in Utah, they include Brook trout, tiger trout, rainbow trout, Colorado River cutthroat trout, Bonneville cutthroat trout, golden trout and Arctic grayling. We are excited to take you into this large and remote playground of fish, trails, peaks and earth that may have never seen a human foot print, in search of some of these fish and to begin to create your own memories. We are excited to share our knowledge of backpacking, fly-fishing, camping and love for the outdoors with you and your group.
important info
There is a thorough screening process before we book our backpacking trips to assure that every one is safe and in good physical condition. All of our trips are at high altitude and some include steep terrain.
We have trips and routes available to accommodate most backpackers from moderate/easy all the way to very strenuous.
We provide all gear needed for the trips except for hiking boots, personal clothing and hygiene necessities.
Our gear is always new and top of the line from companies we trust in the outdoor industry.
Call us today and we can help get you on the right trip to fit your needs and abilities!
Pricing
$2,150 – 2 Days / 1 Night
$3,190 – 3 Days / 2 Nights
$4,230 – 4 days / 3 Nights
$5,270 – 5 days / 4 Nights
Pricing includes 2 backpackers
2 additional backpackers – $600 per day